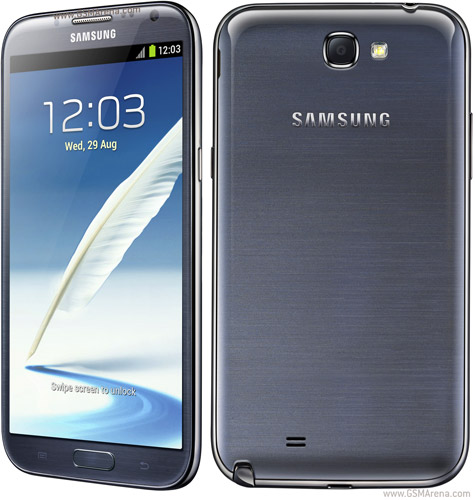 The Samsung Note ii sports a 5.5" Super AMOLED capacitive touchscreen with 16 Million colors. For taking pictures, the Note 2 has an 8 MP camera on the rear and on the front a 1.9MP camera. Great enough for all those Instagram selfies. The Quad-core 1.6 GHz Cortex-A9 processor is fast enough to power you though all the word processing, photo editing, Instagraming till your heart desires. Builtin with 16MB memory with an optional 64 GB microSD. More than enough room to store 16,000 or about 64 hours of video. This phone still sells well in many markets around the world. Once unlocked take it around the world. Another great feature of this cell phone is the detachable pen that
is neatly stored in the main housing accessible from the bottom left hand corner of the rear, This S-pen is a very clever piece of engineering. The S-pen allows you to do special functions which are not available without it. Draw a square box allows you open a calculator for quick calculations. Of course one of the main uses for the S-Pen is definitely the ability to hand write your emails or messages. Great feature!
Option 1:
1) From your home screen press the Apps icon
2) Find and press the Settings icon
3) Scroll down to the users and backup section
4) Press the Backup and reset icon.
4) At the bottom of the next screen press where it says Factory data reset.
5) Hit the Reset device to complete the process.
Option 2:
1) Press and hold Power, Volume Up and Home buttons simultaneously
2) release only the power button while still holding on to the other buttons.
3) Once your Samsung S5 is in recovery mode you can use volume up and down buttons to scroll up and down and press the "power button" to make a selection
4) Now scroll to"wipe data factory reset" and make a selection using the "power button"
The Samsung Note 2 will reset the entire cell phone and remove all user data on the device.