reset to factory settings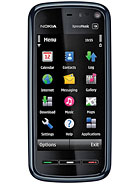 To Nokia 5800 master reset or Nokia 5800 hard reset a Nokia 5800 :
On your Nokia 5800 Hard Reset
Press and hold
GREEN
+
RED
+
CAMERA
when powering up your Nokia 5800 cell phone,
Your Nokia 5800 will ask for a Master Reset code or Hard Reset code
input default 12345 security code.
Instead of a Nokia 5800 Hard Reset you can choose to perform Nokia 5800 soft reset
On your Nokia 5800 dial:
*#7370*
The Nokia 5800 Reset will erase your entire cell phone!!!
NOTE: Performing a Nokia Master Reset Nokia Hard Reset on any Cell phone this will Factory reset Master clear your cell phone and erase the cell phone completely including contacts, pictures, videos etc. You need to make sure you backup your Nokia 5800 hard reset before you lose all your information. Once you Nokia 5800 hard reset all your personal information will no longer ne on your cell phone. A Nokia 5800 hard reset cannot be undone! So please be certain that you want to Nokia 5800 Master Reset.
If the default code is not 12345 then you need to retrieve or reset you security code. Watch video bellow to find out how! You will need the security code to perform a
Nokia 5800 hard reset
. The default security code reset is 12345. Do this at your own risk! Your phone can mess up and not be usable!
Nokia 5800 Hard Reset